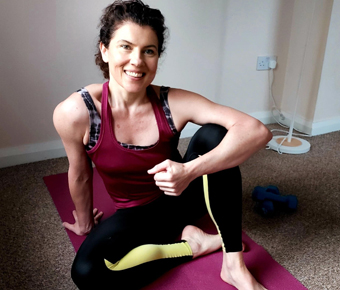 Juliette Cassidy is a fitness professional and educator who has worked in the industry for over 20 years. She has owned and operated two successful fitness businesses with her husband Jack Paton, the current one being, Heat Fitness, which is based in Stirling and specializes in yoga and TRX suspension training.
The duo were the first to bring Suspension Training and TRX to Australia in a group class format and went on to write their own accredited Suspension Training courses for fitness instructors, delivering this to hundreds of fitness professionals in both Australia and Scotland. They are also qualified yoga teachers, with 900 hours of learning between them and collectively 15 years teaching experience. They are both qualified to work with special populations and those with chronic diseases and enjoy helping others to find a way to move when there are limitations such as surgery, disease or conditions that restrict them from mainstream activities.
Juliette has a passion for nutrition and lifelong health and runs annual '30-day lifestyle challenges' which address everything from nutrition and movement to sleep and stress. She brings her knowledge of fitness, health and overall wellbeing to her clients, classes and workshops and knows that real health is not just one thing, but a range of things.
Heat Fitness currently run their business online, with daily classes, workshops, and PT sessions, plus work with companies to offer corporate wellbeing services. Their sessions include everything from 'breathwork and relaxation' to 'high intensity interval training' to 'chair yoga for work' and 'webinars on wellness'
For more info, please visit: www.heatfitness.co.uk