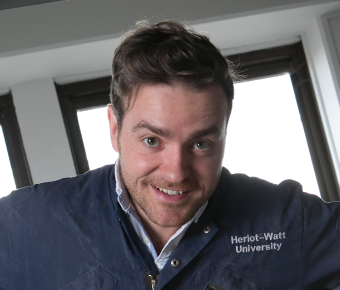 Dr Sam Chapman is MD of spin-out company, Kenoteq Ltd. Kenoteq's patented 'K-Briq' is an unfired brick made of 90% recycled material. It is made using traditional methods and spurns environmentally unfriendly cement. The K-Briq is made nearly exclusively from waste materials and boasted the highest recycled content of anything in the UK.
Sam is currently focussed on growing Kenoteq to continue developing sustainable building materials. In 2016, he was awarded an Enterprise Fellowship by the Royal Academy of Engineering, giving Sam the support and mentoring needed to evolve his innovation and KENOTEQ into a competitive business. This also helped him to make the leap from engineering research associate to entrepreneur. The Kenoteq team has also been awarded the over £2M in grant funding to date. 
Spinning out from Heriot-Watt University, Kenoteq specialises in answering the call from the construction trade for sustainable building materials and waste utilisation. In addition to its impressively green manufacturing credentials, the K-Briq is specially designed to reduce a building's carbon footprint, as well as its running costs. With a high 'thermal mass', the K-Briq takes a lot of energy to heat up. This means they are perfect for keeping buildings cool and cutting air conditioning bills in summer, and vice versa in winter. The 'breathable' nature of the K-Briq regulates ambient moisture in buildings, regulating humidity and preventing condensation.
Originally hailing from the Lake District, Sam relocated to Edinburgh in his final years of school, with a view to following his dad's footsteps into the world of engineering. A master's in structural engineering with architectural design, a PhD in carbon assessment of wind power, and a chance to work on developing a new type of building material soon followed. He also found time to become director in a now successful hospitality company that operates three cocktail bars.
Throughout his studies, Sam was on the ICE QUEST sponsorship programme and was partnered with global engineering consultancy, Atkins Ltd. Keen to join his green ethos with his expertise, Sam was lucky enough to work on an application for an Innovation Fund from Zero-Waste Scotland, led by Dr Gabriela Medero, the founder of Kenoteq. This Fund helped to sow the seeds for Kenoteq begin to grow.