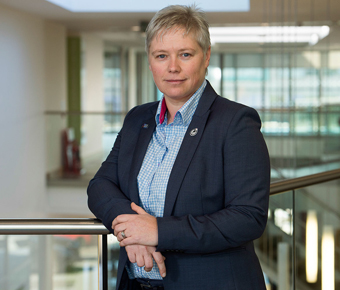 Gillian Docherty is chief executive of The Data Lab, an innovation centre with a mission is to help Scotland maximise value from data and lead the world to a data-powered future.
The Data Lab believes Scotland can lead the world to a future where data powers scientific progress, economic prosperity and social good.
The Data Lab helps accelerate the journey to impact by fuelling innovation through collaboration, building skills and growing talent, and strengthening Scotland's thriving data science community.   The Data Lab acts as a catalyst, using our expertise, network, funding and platforms to change how Scotland, and the world, innovates with data.
Gillian is passionate about the opportunity for using Data to drive economic and social benefits. 
Gillian was appointed an OBE in the Queen's Birthday Honours 2019 for Services to Information Technology and Business.
Formerly of IBM, Gillian is a visiting professor at Robert Gordon University, a TED speaker and was named Digital Leader 2018 for the UK.
Gillian was named CEO of the year at the Digital Technology Awards 2017 and was also in the UK's top ten most influential people in data according to DataIQ. 
Gillian is on the Board of Glasgow Chamber of Commerce, a trustee of Beyonder Involve Charity and an Industry advisor to Previse. 
Gillian has a degree in Computing Science from the University of Glasgow, an Honorary Doctorate from Robert Gordon University and is married with a daughter.