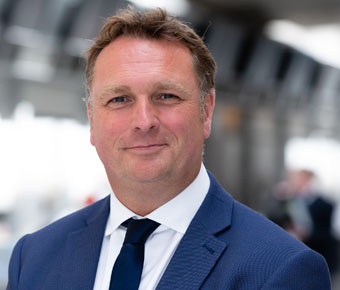 Derek Provan joined AGS Airports, which owns Aberdeen International, Glasgow and Southampton airports, as Chief Executive Officer (CEO) on 16 April 2018.
As the second-largest airport group in the UK, AGS carried over 15 million passengers in 2018 and directly supports approximately 10,000 jobs.
Born in Glasgow, Derek has over 20 years' experience in aviation and joined AGS from Heathrow, Europe's largest airport, where he was latterly Chief Operating Officer. 
During his time at Heathrow, Derek also held the position of Director, Future Heathrow. He was responsible for the future design of an expanded Heathrow to include surface access, terminals, airfield and airspace design and the creation of the hub's master plan and future operating models.  
Derek joined Heathrow in 2013 having spent three years as Managing Director of Aberdeen International Airport. Derek started his aviation career in 1998 at Glasgow Airport where he went on to hold a series of senior roles. He has a BSc in Fire Risk Engineering, Masters Degrees in Risk Management and Business Management and Research.
Derek is a founding member of the Performance-Based Regulation Industry Group working with the CAA to ensure that the industry forms an integral part of future regulation in UK Aviation. He holds a number of positions outwith AGS Airports including Council Director with Glasgow Chamber of Commerce, member of the Airport Operators Association's board and a member of the Department for Transport's Aviation Security Council.