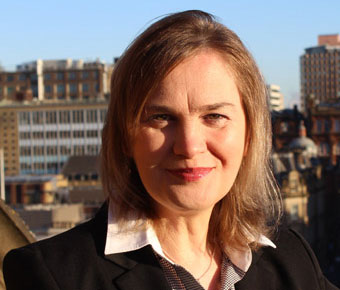 As the Chamber's longest serving member of staff, Anne Marie started her career with Glasgow Chamber as an Office Junior in November 1984, progressing on and working in the majority of the departments within the Chamber over the years.
As Marketing and Communications Manager, she now heads up the production of Glasgow Business magazine and the Chamber marketing material, ensures that the website is kept up-to-date on a daily basis as well as keeping an eye on the database to ensure that members receive relevant communications from Glasgow Chamber.
Anne Marie enjoys cruising the Med as much as possible and maintains an all year round almost unhealthy interest in Strictly Come Dancing, having been lucky enough to acquire tickets to attend a studio show at BBC Television Centre in October 2009, the Wembley show in November 2011, Elstree Studios in November 2014 and It Takes Two at the London Studios in December 2015. Just Blackpool to bag now!