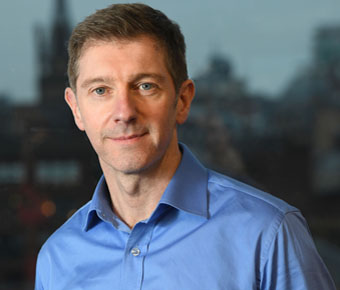 Lindsay McGarvie joined Edrington as Corporate Affairs Director in 2018. He was previously a director of leading independent communications agency 3x1 Group.
Before entering corporate communications he was an award-winning political journalist. He started his journalistic career as a freelance covering news and sport for newspapers including The Herald and Evening Times. Following a two-year stint as a freelance writer in Barcelona he joined the Daily Mail, before spending six years at Scotland's best-selling newspaper the Sunday Mail. As the Mail's political editor, he was Political Journalist of the year in 2005.
Lindsay studied English literature at Strathclyde University. Before that he completed a four year apprenticeship as a mechanical engineer.
He explains that his career includes helping design the air conditioning in Glasgow's Princess Square shopping mall to being held up by Albanian bandits while covering the Kosovo War for the Sunday Mail!
He is married with three sons and lives in rural Ayrshire. He is a runner, cyclist and golfer who loves good food accompanied by a dram of single malt Scotch Whisky.