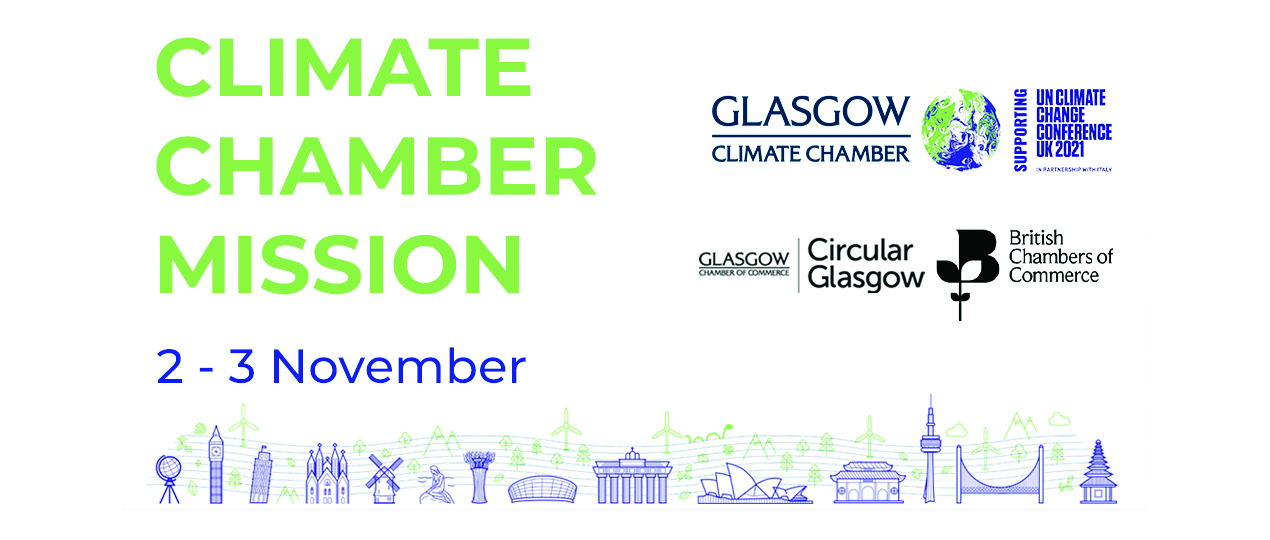 DATE: 02 Nov 2021 - 03 Nov 2021
Venue: Virtual
Hosted by Glasgow Chamber of Commerce, the Climate Chamber Mission is a unique virtual two-day international trade and knowledge exchange mission which will be held during COP26 on Tuesday 2 - Wednesday 3 November 2021 in Glasgow.
A business leadership project to aid the delivery of ambitious sustainability and climate targets, the mission is a must-attend for successful businesses in targeted territories which are seeking to build international partnerships.
The mission is designed specifically to help businesses and business people connect, learn and trade.
Participants will also be able to potentially identify new revenue opportunities, work together on new market and product ideas, collaborate on potential cost-savings and prepare for likely changes in governmental regulations. 
Who can attend
With over 100 participating businesses from over ten countries and cities, there will be two distinct cohorts of delegates.
Sustainable businesses identified by the British Chamber of Commerce overseas network
Circular businesses identified by leading circular economy organisations and cities
We are pleased to announce that we'll be working with partners including the British Chambers of Commerce in countries such as Italy, Germany, Norway, Australia, Singapore and Indonesia.
We are also in communication with a number of other countries and participating businesses which will receive a minimum of five business to business meetings with fellow attendees and will be exclusively invited to join prominent keynote speakers, bespoke expert forums, networking with peers and, for those in Glasgow, site visits and a reception event.
Mission themes
Sustainability and circular economy themed, the Climate Chamber Mission will focus on the following sectors:
Built environment and Construction
Events and Conferences
Green Finance
Fashion and Retail
Food and Drink
Low carbon and Renewables
Manufacturing and Engineering
Transport
Building on the legacy of COP26, a platform is being designed to create an ongoing community for participating companies beyond COP26 to encourage further connections, learnings and trade.