Scotland's phased and careful approach to easing lockdown restrictions while continuing to suppress Coronavirus (COVID-19) has been outlined by the First Minister (23 Feb).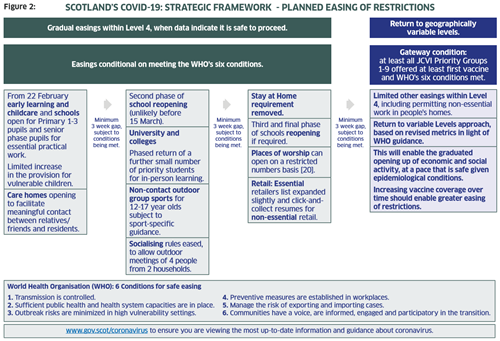 The immediate priority will continue to be the phased return of education, building on the return of some pupils to school yesterday. On the basis that progress in suppressing the virus and vaccinating key groups remains on track restrictions would be eased in the following order:
the next phase of school returns with the rest of the primary school years, P4 to P7, and more senior phase secondary pupils back in the classroom for part of their learning and the limit on outdoor mixing between households increasing to four people from a maximum of two households
the stay at home restriction to be lifted and any final school returns to take place. Communal worship to restart in limited numbers mindful of the timing of major religious festivals. This phase would also see the re-opening of retail, starting with an extension of the definition of essential retail and the removal of restrictions on click-and collect
return to a levels approach with all of Scotland moving to at least level 3, with some possible adjustments. This could mean that from the last week of April that we would expect to see phased but significant re-opening of the economy, including non-essential retail, hospitality and services like gyms and hairdressers
There is likely to be a gap of at least three weeks between each easing of restrictions to assess the impact of changes, and to check that it is safe to proceed further using the six conditions for safe easing set out by the World Health Organisation.
Ongoing financial support is set out in the Framework and will continue to be available to businesses as we emerge from lockdown. This includes the ongoing commitment to fund the Strategic Framework Business Fund and to provide Level 4 payments for an additional month once businesses are moved down a level. These proposals are contingent on receipt of additional consequentials from the UK Government.
By law, in a Level 4 area, you can only leave your home (or garden) for an essential purpose
Hospitality:

Restaurants, cafes, pubs and bars are closed
Takeaways (and other food and drink businesses) can only provide food or drink for consumption off premises, but they must either deliver to customers or, where the customer collects, operate on a no entry basis for either pre-order or walk-up service.
Hotels and other accommodation providers can still serve food to qualifying guests i.e. keyworkers
It is against the law to consume alcohol in an outdoors public place in any Level 4 area.

Retail

In Level 4 areas you are allowed to leave home for essential shopping only
From Saturday 16 January click and collect can operate for essential and certain non-essential retail only. The non-essential retailers which can continue to operate click and collect services are:

clothing and footwear stores
homeware stores
garden centre/plant nurseries
baby equipment shops
electrical shops (including repairs)
key cutting and shoe repairs
bookstores

Colleges and universities can operate using a more restricted mix of face-to-face and distance learning.
People are strongly advised to work from home wherever that is practicable

Businesses which provide essential services can continue to operate, such as those in the Critical National Infrastructure (CNI) sector, courts and tribunals.
Outdoor workplaces, construction, manufacturing, veterinary services and film and TV production can also remain open. They should plan for the minimum number of people needed on site to operate safely and effectively.
Home visits by tradespeople should only be for essential services.

No live events permitted
All leisure and entertainment premises must be closed (except for use in limited circumstances).
Further information is available on the Scottish Government website
The Scottish Government's Strategic Framework is now operational, you can find out exactly which coronavirus lockdown restrictions apply to you by using the Scottish Government's postcode checker.
Safer workplace guidance is released on a sectoral basis and can be found here.  
Grants are available for businesses that are required by law to close or to significantly change operations as a result of COVID-19 restrictions. Find out who is eligible and how to apply here.
The NHS Inform coronavirus webpage is the fastest way for people to get the latest health advice and information.