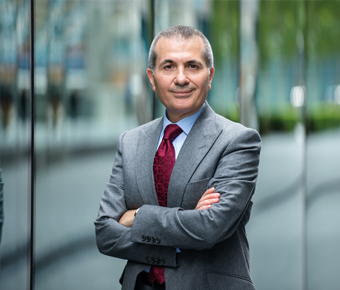 PhD MPhil CEng FIET FCIM FCMI FRSA FIKE FIoD
Professor Sa'ad Sam Medhat is an Entrepreneur, Technologist and Philanthropist.
He is the Founder and Chief Executive of the UK Institute of Innovation and Knowledge Exchange (www.IKEInstitute.org) with national and international branches operating across, business, education and governments. Medhat led the innovation accreditations in many multinational organisations such as BAE Systems, EDF Energy, Hitachi, Panasonic, Raytheon, Thales, Plymouth University, London South Bank University, City of Glasgow College and South West College amongst many others. He is a member of the ISO International Committee responsible for setting International Innovation Standards. He is also a Visiting Professor to the University of Suffolk and Plymouth's St Mark and St John University
He is also the founder of the STEM Foundation (www.STEMFoundation.org.uk) an educational charity and think-tank that supports the professional development of science, engineering and technology lecturers. Professor Medhat's Charitable work through his Foundation has positively impacted the lives of over 700,000 STEM students and created national and regional STEM strategies that attracted both inward and foreign direct investments to stimulate local and regional economies. His action research has influenced many national policies such as the professional recognition of the Technician Grade, and how colleges of Further Education should be configured to support STEM education that is aligned with business and economic needs. Medhat served as a Governor of six colleges in Oxfordshire and Berkshire and was instrumental in a number of mergers and acquisitions during this time.  As a Former UK Director of the Engineering and Technology Board, Medhat instigated and shaped the transformation of the Professional Registration of Engineers and Technologists and conducted national studies on behalf of Government Ministers. He provided parliamentary evidence that resulted in a number of new policy formations. Professor Medhat is a member of the UK's Parliamentary and Scientific Committee that helps to influence the impact of new and emerging technologies on policy and society. He also served on the UK Higher Education Funding Council's committee for Quality Assessment providing both international and scientific perspective. During his time on HEFCE, he was a key member who led a number of ground-braking developments and was responsible for the creation of the Higher Education Academy and the Centres of Excellence in Teaching and Learning (CETLs), as well as undertaking the appraisal of the Quality Assurance Agency (QAA).
Medhat was also the founding Principal and Chief Executive of Dubai Polytechnic (now Dubai University). He built the polytechnic from scratch as a new model attached to the Dubai Chamber of Commerce and Industry with then over 45,000 members. He introduced for the first-time co-education in the UAE in 1997 delivered in English. Medhat established the polytechnic's infrastructure, including the first Digital Library in the Gulf region. Medhat secured international accreditations from prominent UK and USA awarding bodies and universities, as well as, achieved the UAE Federal accreditation to provide progression from high-school to PhD level.
As a Vice President/President of a NASDAQ listed technology Company, Medhat led the business model transformation including M&A activities and the establishment of an international network of suppliers, customers and partners. He was also the IBM Professor of Current Engineering (worldwide) and held the Intergraph Chair of Electronic Design Automation which included digitalisation of complex maritime and air defence systems.
Initially, as a Head of School of Electronics and subsequently, as a Director at Bournemouth University's Office of Research, Medhat operated at both international and EU levels: he served as a member of the UNESCO Science Committee; led the development of UNDP e-learning educational programmes; chaired International Inquires such as the Digital Divide in partnership with the New York Times; led the Euro-chip initiative as part of the ESPRIT III programme to bring some of the East European Countries (e.g. Czechoslovakia) in late 80s into the western educational fold; appointed as an Advisor to the European Parliament under the STOA programme; served as a member of the UK-Dubai Economic Development Committee.  Medhat is a Chartered Engineer and a Fellow of several Royal Chartered bodies including RSA, IET, CIM, CMI and IoD. He has published widely, holds invention patents and has founded 9 businesses. Medhat is a strong believer in active and responsible leadership to improve the quality of life and deliver economic value and social benefit.