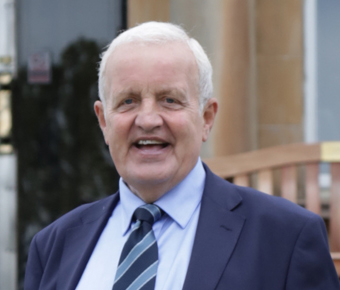 John M Watson OBE is arguably one of the foremost captains of industry, which Scotland has seen over the last 50 years.
His printing prowess powered John Watson and Company Ltd to global status as printers of distinction in a business where, over the years, few competitors have survived.
It was his long-term vision for the business that spelled success being appointed first as Managing Director at the tender age of 28 and latterly as Chief Executive and Chairman - taking it into the highly intricate and demanding manufacture of labels.
These were primarily for the drinks industry in general and the whisky industry in particular.
His entry into printing began on leaving The Glasgow Academy in 1965 joining his father in the small family stationery and printing business at St Vincent Place, in Glasgow.
This was followed with a three year Management course at the Leeds College of Printing.  Thereafter, John took up various roles within the company from costing and estimating and eventually specialising in sales. 
The business grew steadily thanks to the newly emerging oil industry in the North Sea and the newly arrived computer industry in west central Scotland.  However, the company's principal focus soon turned to drinks labeling and "tube wrap" business.
Such was the success of the business and John's charitable contributions that he was awarded an OBE by The Queen at Buckingham Palace, in October 2006 for Services to the Printing Industry and Charity in Scotland.
John successfully sold the business in October 2013 to Multi-Color Corporation from Cincinnati, in Ohio in USA, in a spectacular multi-million dollar deal reflecting the admiration and significant value of the Scottish-based firm.
Remarkably, the business has been profitable for each and every one of his 50 years association and he has greatly enjoyed his entrepreneurial time developing the business to its full potential to supply and print packaging to a broad base of blue chip accounts in Scotland and the rest of the United Kingdom.
Their geographical spread also covered the Irish Whiskey Industry and many of its iconic brands.  
Retirement has allowed John to focus on his charitable work – and in particular a deep-seated commitment to philanthropy.
His generous support of many organisations has made a real difference in communities including helping young children in Govan, Glasgow to access music through the Govan Schools Pipes and Drums Association.
He is a keen supporter of Marie Curie, The Outward Bound Trust, the Scottish Print Archival Trust, The University of Glasgow, Paragolf Scotland, the restoration of the TS Queen Mary, Revive MS and Glasgow's Inspiring City Awards to name but a few.   
John has been a long time supporter of Entrepreneurial Scotland since 1977.  He continues to mentor other businesses and invest where he feels it appropriate in an ever changing market place.
He has supported the Scottish Business Awards and himself was named Scottish Entrepreneur of the Year Award in 2015.
Of particular note is his association with the Social Bite organisation which helps the homeless in various Scottish locations by running a chain of sandwich shops.
John has also financially supported the Social Bite Academy to provide training to homeless people and in a further development has also supported the launch of HOME restaurant in Edinburgh.
Again run under the auspices of Social Bite, this innovative dining concept allows "restaurant-goers" to pay for meals for homeless people and also provides training and job opportunities for Edinburgh's most disadvantaged people.