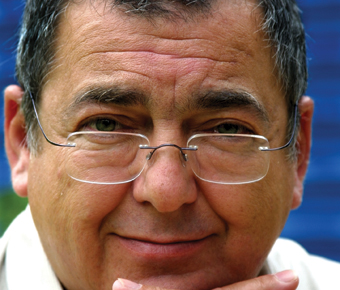 Ivor Tiefenbrun MBE, Executive Chairman of Linn Products Ltd ("Linn"), was born in Glasgow in 1946, married in 1969 and has 3 children. He founded Linn in 1973, and his Sondek LP12 turntable design which started the company went on to become the reference standard turntable worldwide and remains in production to this day. He has devoted the majority of his working life to building Linn and ensuring that it and its products would become the benchmark for performance, innovation and quality.
Across the past 45 years Ivor has obtained an impressive series of accolades and achievements in recognition of his pioneering business model, engineering expertise and outstanding contributions to the hifi industry. In 1992 he was awarded an MBE for his services to the Electronics Industry and was invited to serve two terms on the Design Council from 1995-99. He also received an Honorary Fellowship from the Glasgow School of Art in December 1999 – the 100th anniversary of the opening of the Mackintosh Building. In 2001 he was the recipient of the Ernst & Young Scottish Entrepreneur of the Year Award.  In 2004 he was appointed a Visiting Professor at Strathclyde University by the Department of Design Manufacture and Engineering Management, and is a founder member of Strathclyde University's Academy of Distinguished Entrepreneurs.
In further celebration of his contribution to the hi-fi industry, Ivor has been inducted into Abso!ute Sounds' 2016 High-End Hall of Fame – an honour which acknowledges those who created the foundational and most iconic technologies of the industry.
Posts once held include Chairman and Vice President (Highest Elected Office), of the Federation of British Audio, Member of the Institute of Contemporary Scotland and Trustee of the Policy Institute.
From January 2002 Linn was awarded Royal Warrant status for its products by the Prince of Wales, as providers of Entertainment Systems to the Royal Household and later attained the prestigious Queen's Award for Enterprise in Innovation in 2011.
In 2006, Ivor established the registered charity Cure Crohn's Colitis to raise funds for patient-centric research into inflammatory bowel disease.  In 2011 he was appointed a member of The William Robertson Society at The University of Edinburgh in recognition of his charity work. He is also a founding member of the Entrepreneurial Exchange (now Entrepreneurial Scotland) and was inducted to their Hall of Fame in 2011.
In recent years Ivor and Linn initiated and sponsored a stem cell specialisation research project involving three Scottish Universities, and agreed to chair a similar broad-based joint University research project on a specialised stem cell application. 
Ivor lectures extensively on business, design, manufacturing methodologies, marketing and strategy at Universities, Think Tanks, research establishments and businesses, and business events and conferences.  He is an occasional columnist for various publications and also mentors and coaches private businesses, and is a consultant to manufacturing businesses around the world.
His personal interests include helping people, manufacturing and engineering, boating, history, current affairs and economics, music, reading and the arts.